Christianity & Transgender People
Making our churches places of grace, welcome & inclusion for transgender people.
HAMILTON BAPTIST CHURCH
Saturday June 15, 2019
WORKSHOP
6.00pm-9.30pm, Saturday June 15.
Hamilton Baptist Church, 108 Lindsay St, Hamilton
Bookings: $15/person
Open to all people, this workshop will explore what it means to be transgender, how we might think biblically and theologically about gender identity, and how we can build churches that are inclusive, graceful and supportive of transgender people. We will cover:
Our cultural story
Why is gender identity an issue in our culture?
Jo & Penny's stories
As we hear Josephine and Penny's story we will gain insight into what itmeans to be transgender, the challenges transgender people face, the challenges presented to transgender people of faith, and the type of responses that are helpful.
Q and A
An opportunity to ask questions about being transgender.
Our stories
An opportunity to reflect on your journey with gender and identity. What have been the key influences on the way you think and feel about yourself and those whose gender identity differs from yours?
God's story
Jo and Penny will help us think about gender identity and the Christian faith. They will share how they see the Christian tradition forming a framework for a positive appreciation of transgender.
Our new story
In the light of what we have seen in this workshop what might God be calling us to personally and collectively? What new story is emerging?
HBC ONLY
7.30-9.30pm, Friday June 14.
An informal gathering for the congregation of Hamilton Baps and their friends to get to know Jo & Penny over wine & cheese in a home setting.
PASTORS FORUM
5.00-6.30pm, Friday June 14.
This is an invitation only event that will allow participants to think about gender identity and personhood in conversation with a colleague and theologian who is transgender. If you are a pastor/priest/staff leader in your church and would like to be invited, please send us a message via the contact page on this website.
SUNDAY SERVICE
9.30am Sunday June 16
Jo and Penny will share at Hamilton Baptist's church service. Everyone is welcome!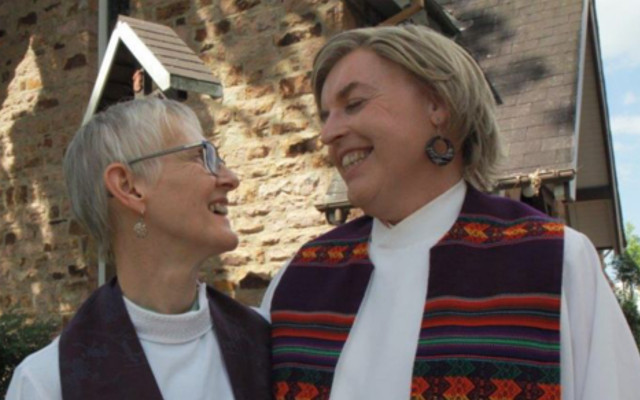 Josephine Inkpin & Penny Jones
are Anglican priests with wide experience of ministry in both Australia (to which they emigrated with sick children in 2001) and their native England. Jo teaches church history at St Francis theological college in Brisbane, and is Australia's first open and recognised transgender minister. She formerly served with the National Council of Churches In Australia and as General Secretary of the NSW Ecumenical Council, as well as a parish priest in Toowoomba. Penny is director of formation at St Francis college, parish priest of Milton, and a skilled spiritual director.